Peanut/Soybean Oil Production Line in Togo


Cooking Soybean Peanut Oil Processing
Country: Togo
Raw Materials: Peanut/Groundnut, Soybean
Final Products: Cooking Oil (Refined Peanut Oil, Refined Soybean Oil)
Capacity: 15 tons per day
Oil Production Methods: Mechanical Oil Pressing and Batch Oil Refining
Main Oil Production Equipment: Seeds Cleaning Machine, Cooking Equipment, Flaking Machine, Screw Oil Press, Oil Filter Machine, Edible Oil Refinery Equipment, etc..
Related Artice: Oil Mill Project Cost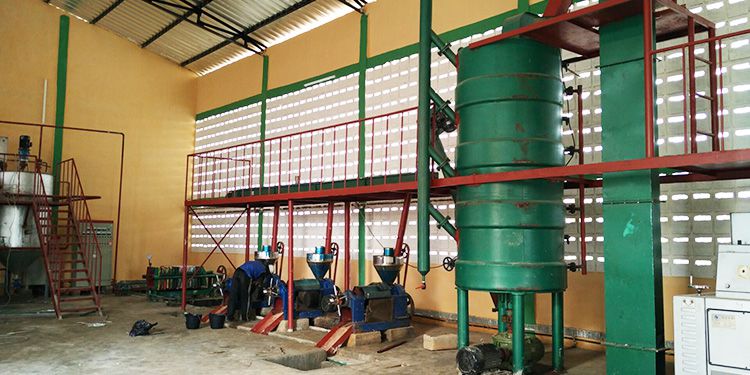 Soybean Oil Production Line
15TPD Peanut & Soybean Oil Production Line Setup in Togo
This groundnut and soybean oil production line was successfully completed in May 2017. This project is mainly used to produce high quality cooking oil that is made of peanuts and soybeans. The main section includes oil pressing plant and oil refining plant and the main oil production process includes raw materials pretreatment, oil pressing, oil filtration, degumming, deacidification, decolorization and deodorization. Our engineers participated in the installation and commissioning of the whole cooking oil production line. In addition, we also provided training for their operators. Below is about the onsite installation. (Related post: Soya Oil Plant Project Report >>)
The main oil crops in Togo is peanut, cotton seed, oil palm, soybean and more. But, the edible oil production industry in Togo is relatively small and its consumption of cooking oil is increasing in these years. So, it is a great opportunity to setup a cooking oil production plant in Togo to get more profits. (Read more: Cost of Building a Palm Oil Refinery >>)
If you are interested in having your own oil processing business in Togo, please contact us, we offer free guidance, technical supports, cooking oil production business plan to help you build your own oil production plant for soybean, peanut, cotton seeds and more. In addition, we also have various types of oil mill machinery that can definitely meet your different needs!

Soybean Oil Production Line Workshop in Togo | Africa
Small Soybean Oil Production Line Process | 1~20TPD
Due to the relatively low investment capitals, many people who is going to start cooking oil business would like to consider a mini or a small scale soybean oil production line. But, what is the oil production process in a small scale soybean oil mill plant. How to choose the corresponding equipment?


Small Soybean Oil Production Line
Soybeans Pretreatment Process
Just like other oilseeds, soybeans should be treated with professional equipment before loading into the oil press machine to extract oil. The pre-treatment for soybeans is to improve the oil yield and protect the soybean oil processing machine for long-term use. Generally, in a small scale soybean oil production line, the soybeans should cleaned, roasted and flaked. (Related equipment: Seeds Cleaning Machine, Flaking Machine, etc)
Soybean Oil Pressing Process
Small scale oil production line usually adopts small oil press machine to squeeze oil out from soybeans. Screw small oil press machine is small in size, efficient in oil pressing, so it is not only the best choice for mini scale or small scale soybean oil production line, but also a great one for home use. (Related machine: Oil Extracting Machine >> )
Crude Soybean Oil Filtration Process
The soybean oil discharged from soybean oil press machine contains many useless and unhealthy substances and impurities. In order to produce high quality edible oil, the first step is to filter all the organic impurities. (Related equipment: Oil Filter Machine >>)
Soybean Oil Refining Process
For further remove the phospholipids, FFA, pigment, gums, off-flavor and other impurities in the crude soybean oil, soybean oil refining machine is needed in a cooking oil manufacturing plant. Generally, oil refining process has degummin g,deacidification,decolorization and deodorization. (Read project: Coconut Oil Refinery in Philippines >>)



Small Oil Production Line
If you don't know how to choose the right equipment for each soybean oil production process, we are professional. Our professional engineers and service team will help you and provide you the customized plan to set up your own soybean oil production line. In addition, our company have built many vegetable oil processing plant project around the world, like Mexico, United Kingdom, Nigeria, Ghana, Tanzania, Chile, Thailand, Argentina, etc. If you want to take a reference from these oil mill projects and want to know the detailed cost or the equipment price list, just contact us directly.
Percent of Unsaturated Fatty Acids in Cooking Oils

| Oil | Iodine Value | %Oleic | %Linoleic | %Linolenic |
| --- | --- | --- | --- | --- |
| Peanut | 84-100 | 47 | 32 | <1 |
| Soybean | 123-139 | 23 | 54 | 8 |