Business Plan for Establishing Rice Bran Oil Manufacturing Plant
Rice bran oil is an edible oil that is extracted from the outer layer of rice grains, called the bran. It is a healthy alternative to traditional cooking oils due to its high levels of antioxidants, vitamins, and healthy fats. Building a cost-effective rice bran oil processing plant can be a profitable business venture with the potential to meet the growing demand for this healthy cooking oil. In this article, we will discuss how to set up a complete business plan for a rice bran oil production plant. (Related Post: Cooking Oil Mill Business Plan >>)


Business Plan: Setting up a Rice Bran Oil Production Plant
ABC Machinery is a professional manufacturer and supplier of factory-priced rice bran oil extraction and refining production equipment,and best service from process design to after-sales service. Welcome to contact us for more information about rice bran oil mill for sale!

How to Make a Rice Bran Oil Extraction Business Plan and Project Report
Once you have assessed the market potential and determined that a project to establish a rice bran oil processing plant is feasible, you can begin to create a business plan. This plan should include information on the layout design of the rice bran oil production plant, the costs required to build the plant, projected profits and a marketing strategy. If you are setting up a rice bran oil processing plant of your own for the first time, the following three tips will help you.
Assessing the market potential
The first step in establishing a rice bran oil extraction project is to assess the market potential. The demand for rice bran oil has been steadily increasing due to its health benefits and rising health awareness among consumers. The market size of the global rice bran oil market is expected to reach $1.74 billion by 2026. The demand is mainly driven by increasing health concerns and the growing preference for healthy cooking oils. The growing demand for rice bran oil is an excellent opportunity for entrepreneurs to invest in the rice bran oil mill business plan.
Choosing the right location
A suitable location would be a place close to rice mills, which would ensure a steady supply of rice bran. Layout design required for business plan for a small to medium scale rice bran oil plant includes a land area of around 500 square metres, a production hall with machinery, storage space for raw materials and finished products, and an office space.
Calculating budget costs
The initial investment for establishing a rice bran oil production plant may vary depending on the scale of operation and location. The estimated cost of establishing a factory with a daily production capacity of 10 tons is around $200,000 to $250,000. Revenue forecasts may vary depending on the selling price, which can range from $900 to $1,200 per ton. The net profit margin for a rice bran oil manufacturer's business plan can be around 10% to 15%.
When establishing a rice bran oil processing plant, it is also important to consider the cost of regular maintenance and repairs. Regular maintenance is essential for ensuring the smooth operation of the factory and the quality of the oil produced. Depending on the severity of the problem, repair costs can be high. Overall, the cost of establishing a rice bran oil processing plant may vary significantly depending on the scale and complexity of the factory.
In addition to the factory's cost, there are other factors to consider when establishing a rice bran oil processing plant. These factors include labor costs, raw materials, water, electricity, and other operating costs. Labor costs will depend on the number of workers and their skill level. Raw material and electricity costs depend on the availability of resources and location.
Rice Bran Oil Production Processing and Equipment Selection
To successfully buy a cost-effective rice bran oil extraction machinery for sale, you should know something when you buy rice bran oil manufacturing equipment online for your rice bran oil production business. Compared to pressing and conventional extraction methods, subcritical extraction technology causes less damage to the heat-sensitive components in rice bran, making it a low-temperature, low-pressure, and efficient extraction method.
The process of extracting rice bran oil using subcritical technology is as follows:
Rice bran → cleaning → drying → puffing or pelleting → subcritical low-temperature extraction(performed four times by reflux at room temperature) → refining of rice bran oil → rice bran oil
Refining of rice bran oil: The acid value of crude rice bran oil is generally high, mostly between 8-20 mg/g, and some aged rice bran oil may have an acid value of more than 30mg/g. In addition, it contains 2% to 5% wax. The unique properties of rice bran oil determine that its refining process differs from that of other edible oils. Traditional alkali refining processes result in high refining losses and high production costs. In order to produce qualified first-grade oil while reducing production costs, physical refining technology is suitable. (Read More: Guide on Edible Oil Refining Process & Investment Cost)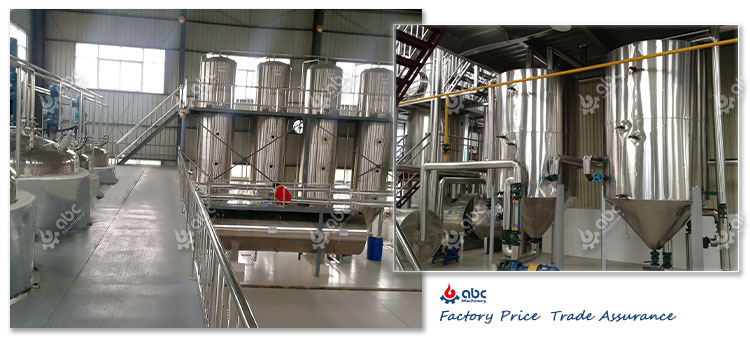 Hot Sale Rice Bran Oil Extraction and Refining Machinery at Factory Price
Global Market Growth / Industry Analysis of Rice Bran Oil
Global Rice Bran Oil Production Top 10 List

| Rank | Countries | Output /MMT (million metric tons) | Rank | Countries | Output /MMT (million metric tons) |
| --- | --- | --- | --- | --- | --- |
| No.1 | India | 1.6 MMT | No.6 | USA | 0.1 MMT |
| No.2 | China | 1.2 MMT | No.7 | South Korea | 0.07 MMT |
| No.3 | Japan | 0.2 MMT | No.8 | Indonesia | 0.06 MMT |
| No.4 | Thailand | 0.17 MMT | No.9 | Taiwan | 0.05 MMT |
| No.5 | Vietnam | 0.12 MMT | No.10 | Nepal | 0.04 MMT |
From the above table it is clear that Asia Pacific is expected to be the largest and fastest growing market for rice bran oil.
Three Major Driving Factors for the Growing Rice Bran Oil Market
1. Increasing consumer health awareness and demand for healthier fats and oils

2. Increasing population and rising disposable income are also driving the market growth.

3. Growing popularity of organic and natural foods is also contributing to the growth of the market.
Working Video: Rice Bran Oil Mill Production
ABC Machinery is a grain & oil processing equipment manufacturer and supplier with over twenty years of experience. We are committed to providing our customers with the highest quality rice bran oil production line, while promoting sustainability and eco-friendliness.
Contact us today to find out more about our products and services!