Profitable Investment▕ Setting Up a 10~20 Tpd Sesame Oil Plant in Thailand
Project Site: Thailand
Capacity: 10~20 TPD sesame oil mill Manufacturing
Raw Materials: mainly sesame
Final Product: main products are sesame oil
Production Technology: Sesame cleaning, washing, roasting, cooling, oil extraction/pressing, bottling.
Main Equipment: Sesame seeds washing machine, water washing and frying equipment, roasting machine, cooling machine, s

crew oil press, small mill oil press, hydraulic oil press

and bottling machine.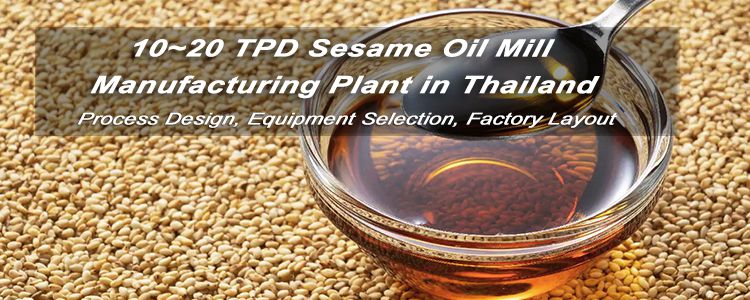 Roasted Sesame Oil Production Plant Production Project
This roasted sesame oil production plant production project was invested and built by Union Food Industry Co;ltd in Thailand. Our client, a professional engineering designer from a sesame oil production supplier, was rigorous in their approach throughout the construction process. They demanded everything to be perfect and the final product to be of high quality. In this 120 tons per day sesame oil production plant, they chose a rather special production line, the final product comes out with three kinds of products: small mill sesame oil, machine pressed oil and hydraulic oil, the customer's main product is small mill sesame oil, while the machine pressed and hydraulic oil is mainly used to make blending oil. Each area gives the customer a high quality end product. (Read More:Why Choose Hydraulic Oil Presses for Sesame Oil Making Machines?)
If you are interested in oil pressing and refining, establishing edible oil production plants for soybean, peanut, corn, olive, palm, sesame, etc., please check out our commercial edible oil refinery >>.

Project Photos of 10~20 TPD Sesame Oil Mill Manufacturing Plant in Thailand
The Production Scale and Process of Sesame Production Line in Thailand
Cleaning: Cleaning is composed of 2 sieves and 2 de-stones, with an output of one ton per hour.
Washing and frying: Washing and frying are in one platform, and the output of both is 800 kg per hour. ps: screw oil press and hydraulic oil press do not need to be washed.
Cooling machine: sesame seeds after frying need to be cooled before entering the oil extraction workshop.
Oil extraction: three types of oil extraction equipment. 1. screw oil press 2. hydraulic oil press 3. small mill oil making. According to the degree of frying of sesame to decide what to do, the customer's main product is the small mill, machine press and hydraulic oil is mainly used to make blending oil. Simply put, a small mill needs to be fried a little harder, hydraulic and oil press lighter; these 2 can share a degree of sesame. (Related Article: How to Make Sesame Oil?)
Refrigeration workshop: the function of wax removal, mainly used to remove wax from the oil after the machine presses.
If you are interested in starting an edible oil production business, please feel free to contact ABC Machinery for a detailed project report and the latest equipment pricing and construction costs.
The Nutritional Value of Sesame Oil
Sesame oil is rich in vitamin E, which has the function of promoting cell division and slowing down the aging process. These unsaturated fatty acids are easily absorbed and used by the body to promote the metabolism of cholesterol and remove deposits on the walls of the arteries, thus softening the blood vessels and preventing the effects of fat sclerosis.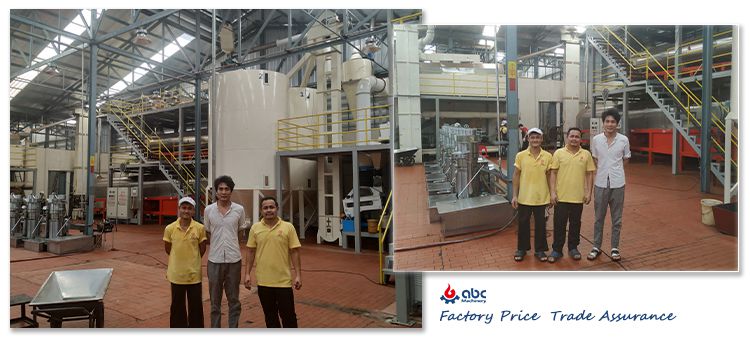 Sesame Oil Production Line Installation
Whether machine pressed or milling, sesame oil has a 98% digestibility and absorption rate as a low calorie, high antioxidant cooking oil. The following is a table of the nutritional value of sesame oil.
| Oleic Acid | Linoleic Acid | Arachidic Acid |
| --- | --- | --- |
| 35.0-49.4% | 37.7-48.4% | 0.4-1.2% |
Video of Sesame Oil Mill Plant Onsite Commissioning
ABC Machinery offers one-stop and turnkey services for complete edible oil crushing and refining plants. If you are interested in setting up your own edible oil production plant or wish to start an edible oil production business, but are not sure which supplier you should choose. Perhaps, you can visit our edible oil production plant projects built at low cost in many countries such as Nigeria, Moldavia, Brazil, Jamaica, Ghana, Tanzania, Senegal, etc. For any questions about project costs and equipment parameters, please contact us directly!