10TPD Castor Oil Pressing and Refining Line Shipped to Haiti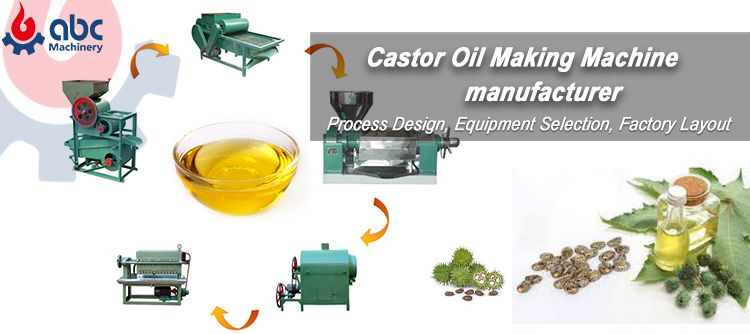 10TPD Castor Oil Pressing Production Line Shipped to Haiti
Castor oil is a worldwide oil and has development potential and is regarded as a renewable "green energy". It has the characteristics of not deteriorating and not burning at high temperature, so it is a high-grade lubricating oil, which is widely used in its deep-processed products, nylon, cosmetics, surfactants, etc., and is in great demand. So it is a lucrative opportunity to build your own castor oil processing plant locally.

Project Photos Display: 10TPD Complete Castor Oil Production Line
Recently, a Haitian customer wanted to invest in a small oil plant by himself. There are castor beans in the area, so he bought a castor oil production line from ABC Machinery. The delivery pictures are shown below.

A Brief Introduction to Castor Oil

| | |
| --- | --- |
| Raw material | Castor |
| Type of press | screw oil press machine |
| Main origin of raw materials | India, China, Myanmar, Vietnam, Indonesia, Cambodia, Pakistan, Thailand, Bangladesh, Philippines |
| Uses of castor oil products | Non-edible oil, mainly used in industry, daily chemicals, medicine |
Technologies and Equipment for 10TPD Complete Castor Oil Production Processing
The castor raw materials are transferred to the silo through the conveying equipment, enter the buffer tank after being actively measured, and then evenly fed into the vibrating screen to clean impurities. When the castor seeds that have been cleaned of impurities flow through the chute, they are removed from iron by electromagnets and permanent magnets.
Screw oil press machine : crude castor oil making machine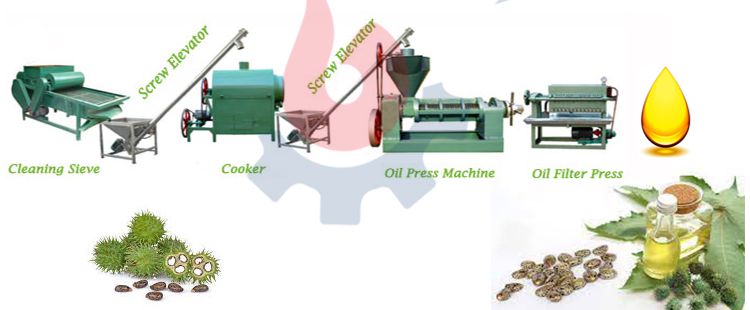 Cost Efficient Castor Oil Production Processing
The pre-pressed cake is uniformly fed into the extractor by the conveyor, and the oil in the cake is extracted by the countercurrent spray of the chemical solvent to obtain the wet meal, and the wet meal containing the wet meal is fed into the dryer by the conveyor. After the solvent is evaporated and cooled to room temperature by cold air, it is conveyed to the intermediate meal bin by a conveyor and quantified by a weighing scale.
The mixed oil of solvent and oil obtained by leaching is transferred to the mixing tank storage tank after the impurities are separated, and the impurities are clarified, and then sent to the mixed oil evaporation system by a pump, and then vacuum dried. After cooling, it is transported to the refining process for refining.
The leaching crude oil sent from the leaching process first enters the neutralization tank, and the lye is added for deacidification. The neutral oil discharged from the neutralization tank is sent to the intermittent decolorizer to add activated clay and activated carbon. After decolorization, it is filtered and ready for use. Finished products for industrial use.
Video of Complete Castor Oil Making Equipment
The 10tpd oil press production line is a small-scale household production equipment, with small investment but large profits. In addition, ABC Machinery has many successful model projects and cases, such as
30tpd Cotton Seeds Oil Refinery Plant Afghanistan and 100TPD Soybean/Sunflower Seeds Oil Pressing Line In Kazakhstan.
To learn more about castor oil production equipment, please feel free to contact us!