10 Ton/hour Soybean Oil Refining Production Plant Built in Nigeria
If you are planning to set up your own soybean oil refinery and are looking for the best soybean oil extraction and refining unit with the best cost performance, here is a soybean oil extraction and refining processing business plan for your consideration! It is a complete set of soybean oil extraction and refining plants with an output of 10 tons per hour.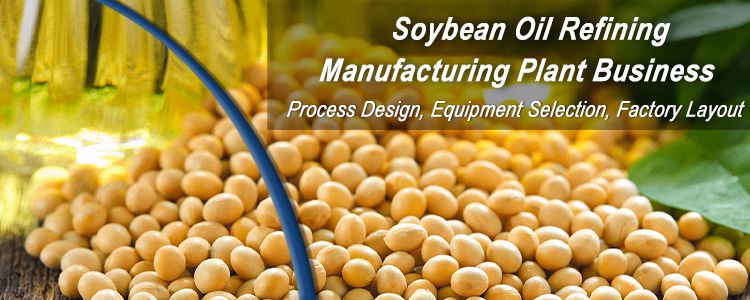 How to Set Up Your Own Soybean Oil Refinery
Soybean oil contains linoleic acid and unsaturated fatty acids, which have the effect of lowering blood lipids and blood cholesterol and have a certain effect of preventing cardiovascular diseases. The soy phospholipids contained are beneficial to the development and growth of the brain, nerves and blood vessels. Read more about Soybean Oil Processing Market>>
10 T/h Soybean Oil Extraction Line in Nigeria
The following project is a 10 ton per hour soybean oil extraction line with a layout design that is very popular in Nigeria, Thailand, India and Indonesia. View the photos below for more detailed information on the plant design and accompanying equipment. If you would like a customized soybean oil processing business plan to set up your own plant, feel free to contact us!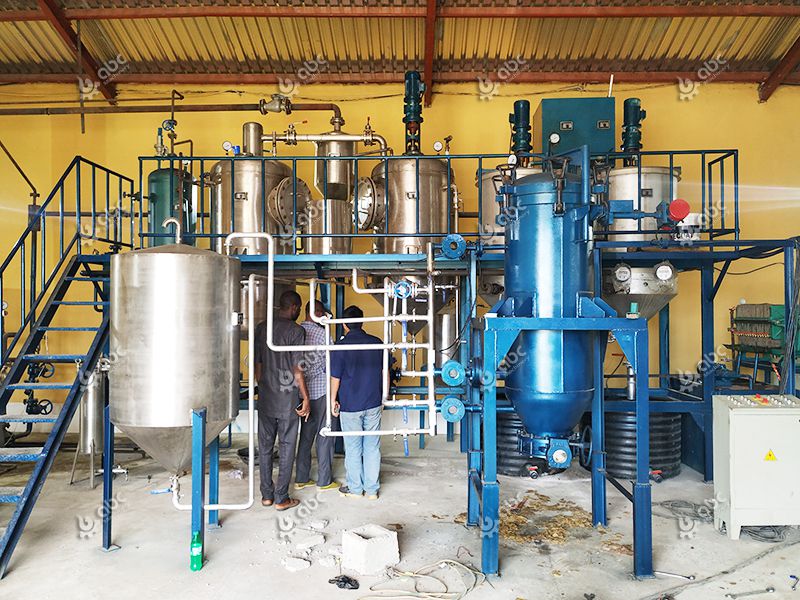 10 TPD Soybean Oil Refinery Unit for Sale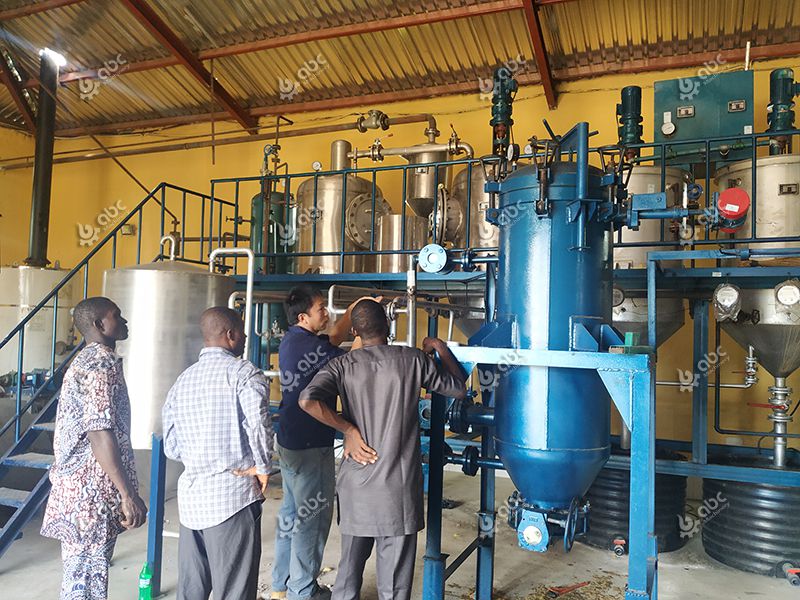 Soybean Oil Plant Installation Process
Many factors such as large soybean cultivation area, abundant resources, and high human demand for soybean oil have combined to achieve the market position of soybean oil, making soybean oil processing projects blossom everywhere. However, soybean oil processing cannot simply be achieved by purchasing an oil press. In order to produce qualified, healthy soybean oil, a specific soybean oil processing program should be in place to assist. Since soybean oil requires different processing capacities and configurations of soybean oil processing equipment, the experts at ABC Machinery offer customers three different equipment configuration options so that you can understand the market and choose according to your requirements.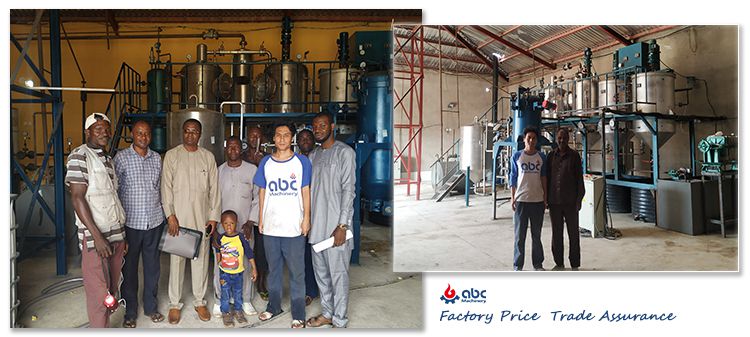 Soybean Oil Refinery Installation and Inspection Workers
If you are interested in starting an edible oil crushing and refining plant business, please feel free to contact us for a detailed project report and the latest equipment prices and construction costs.
Solution 1: Batch cooking oil refining line Capacity: 1~20TPD
If your soybean oil processing plant is small-scale for domestic use, the oil engineer recommends you to purchase a small-scale soybean oil processing plant, including the section containing degumming, neutralization, decolorization and deodorization. Therefore, it can also be called a small edible oil refining unit. It can process 1-10 tons of raw materials per day. This solution has low investment cost and can be produced automatically, which suits the demands of small soybean oil processing plants. Related article :
Batch Oil Refinery Line
>>
Solution 2: Semi-continuous refinery Capacity: 10-50TPD
If a soybean oil processing plant requires a processing capacity of 10-50 tons per day, soybean oil processing requires more equipment and a higher configuration compared to Solution 1. Since oil soybeans are oil crops with high oil content and more residual oil from one pressing, the use of pre-pressing + pressing can press as much oil from the oil as possible and bring higher economic benefits. Compared with intermittent refining lines, the semi-continuous refining process is more efficient. Also the investment cost required for the semi-continuous refining process is lower compared to a fully continuous refinery.Read more: Cost to Set Up Medium Palm Oil Refinery >>
Solution 3: Continuous refinery Capacity: > 30TPD
This option belongs to a complete soybean oil processing line, mainly consisting of pretreatment equipment, leaching equipment and refining equipment. It is suitable for large soybean oil processing plants with processing capacity greater than 30 tons per day or more. Pre-pressing + leaching can extract more soybean oil. Therefore, for large plants, an additional set of soybean oil refining equipment is essential. This solution adopts PLC control system, which can numerically control the operation of the equipment, save manpower and material resources, and the equipment runs stably with high efficiency and high oil yield, which can meet the dual needs of customers for excellent and high yield. Related aricle : Continuous Oil Refinery Plant>>
Video of Soybean Oil Refinery Working
After reading the above three different equipment configuration options, I believe you have your own ideas about equipment procurement.
To buy soybean oil processing equipment, please choose an experienced machinery manufacturer--ABC Machinery, welcome our customers and friends to order!