1500 Bottle/Hour Automatic Coconut Oil Filling Line Invested in Sri Lanka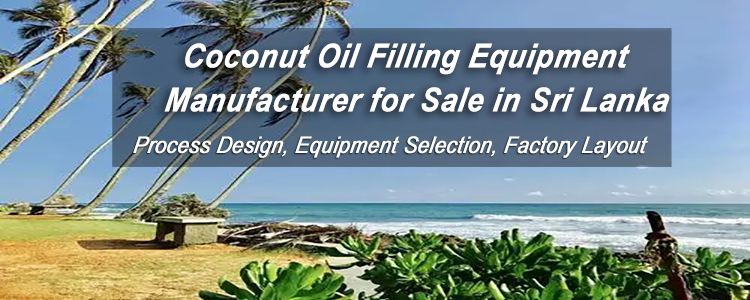 Automatic Coconut Oil Filling Equipment Manufacturer for Sale in Sri Lanka
Project:1500 Bottle/hour Automatic Coconut Oil Filling Line invested in Sri Lanka
Production capacity: 1500 Bottles/Hour
Raw material: Edible coconut oil
Container: Glass bottles
Bottle size: 225ml, 350ml, 500ml
Advanced technology: PLC control
Production Processing: Bottle filling→bottle feeding→bottle washing→ bottle drying→ quantitative filling→ capping and labelling
Main equipment:Bottle washing machine, bottle drying machine, automatic oil filling machine, automatic capping machine, automatic labelling machine, etc.
Photo Display: Automatic Coconut Oil Filling Machine & Plant
Setup small scale domestic or large scale commercial automatic coconut oil filling plant at Low Investment Capitals ,build your own coconut oil production factory and learn more about the knowledge .Contact us now for more information on equipment prices and investment costs!
How to Set Up A Coconut Oil Filling and Processing Plant?


Edible Coconut Oil Production Line for Sale
In today's vegetable oil market, the economic benefits of coconut oil represent a very important part. Nowadays, we have attempted to answer the frequently asked questions about coconut oil bottling plants that are on the minds of an increasing number of interested entrepreneurs. It gives you tips on investing in a coconut oil refining and bottling plant in Sri Lanka. Some of the most frequently asked questions include.
Is the coconut oil business worth doing?
What factors must be considered when setting up a coconut oil filling plant?
Is it worthwhile to start a coconut oil processing business?
The production and processing of coconut oil provides an opportunity for those involved in the coconut oil industry to earn a steady income. The business also provides employment opportunities for many people who would otherwise not have a job. The most important thing is to learn the expertise as soon as possible. You also need to give the cause the attention and seriousness it deserves. As the demand for coconut oil in Sri Lanka and internationally is huge, this coconut oil filling plant business is definitely worthwhile.
Requirements for operating a coconut oil processing plant
Plant location for starting coconut oil production lines
It is imperative that you identify a good location for your coconut oil production and bottling business. To make an informed decision, consider aspects such as the availability of raw materials and your audience (target market). Your ideal location should be close to the raw material as well as the market.
Start-up capital. How much does it cost to produce edible coconut oil?
This includes business premises, equipment, raw materials and staff. If you have done some research into the business, you already know that you will need machines (for the different stages of production) to ensure faster production.
Equipment costs: Consider choosing your machines carefully to avoid unnecessary repair and maintenance costs which could affect your company's profitability. When choosing coconut oil processing equipment, look at how much production you are processing and how much finished oil you plan to produce each day, and choose the equipment model and configuration according to your needs after you have a clear understanding. If finances allow, choose high-quality equipment.
Recruiting staff. This includes oil purchase staff, transport staff, storage staff, oil press plant operators, packaging staff, sales staff. In addition, office staff, financial staff, management staff, etc. are required.On average, you will need 10 staff, depending on the size of your business. Coconut oil production and filling line businesses are capital intensive and must be ensured to be fully prepared. Depending on the size of the business.
Video of Coconut Oil Filling in Sri Lanka
It is only wise to start your coconut oil production and filling line business if everything is in place. Start thinking about effective marketing strategies to promote your products and in turn attract customers. Your enthusiasm and the availability of funds will determine how quickly you can start operations. If you're interested in this business, ABC Machinery has the professionals to answer your questions, so feel free to ask us!